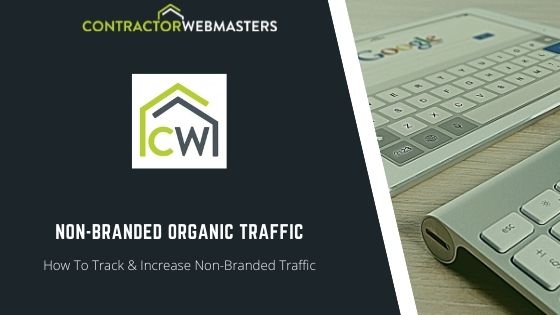 For a small contractor business, non-branded organic traffic is essential to online lead generation. In addition, tracking non-branded vs. branded traffic helps determine if marketing efforts are working.
In the following post, Contractor Webmasters shares ways to track and increase your non-branded organic traffic to land more customers.
But first, you have to ask the question: what is non-branded traffic in the first place?
What is Non-Branded Traffic?
Non-branded traffic is users who enter your website after searching industry keyword terms rather than your company name. For example, let's say you run a Denver pest control company called Mile High Pest Control. Users who find your website by searching denver pest control services represent non-branded traffic.
Branded vs. Non-Branded Traffic
Non-branded traffic is just the opposite of branded traffic. Branded traffic includes site visits from people who specifically searched your exact company name or some variation. For example, users who search mile high pest control or mile high pest control denver represent branded traffic.
With branded traffic, the consumer already knew your brand and searched you by name. Of course, branded organic traffic is significant. Suppose you are getting lots of branded visits. In that case, consumers are already aware of your brand – which is a good thing for your business.
Still, non-branded organic traffic is equally valuable—website visits from consumers who find you without using your company name are new prospects you would never have reached without a solid SEO campaign.
Startup contractors, in particular, need non-branded traffic because their company name is not yet popular enough to garner branded searches.
Simple Ways to Track Non-Branded Organic Traffic
The simplest way to track your non-branded traffic is by keywords. People who use your specific company name to find you do so by typing it into a search engine.
When you set up Google Search Console to track your website, it will show which queries people use to find your content. Likewise, most people will find you apart from your company name using industry keywords.
How do we know this? The numbers don't lie. Recent studies have revealed that 97% of people who use online search engines do so to look for local businesses. And as of now, keywords are mainly used to conduct these searches.
Fortunately, this makes your options pretty simple. You can simply track how much traffic your site is getting from searches that include your company name against traffic from searches that exclude your company name. Let us give you a quick example:
Masterson's Construction: This would be an example of a branded keyword that would not qualify for non-branded organic traffic.
Construction Companies Near Me: This query qualifies as a non-branded search and therefore counts as non-branded traffic.
Knowing that keywords are the best way to track non-branded organic traffic makes it easy to analyze. Once again, it's fortunate because there are a lot of keyword research tools (some paid, some unpaid) that take the guesswork out of the process.
Platforms like SEMRush include graphs showing how much your traffic is coming from branded and non-branded searches. While these numbers are estimates and not entirely as accurate as Google Search Console, they take a lot of the manual labor from tracking your non-branded traffic.
Google Search Console & Analytics
You can take another route if you want to track your non-branded organic traffic effectively: the Google route. Google offers site analytics tools that you can use to track non-branded organic traffic.
For example, connect your Google Search Console with your Google Analytics account. The process is not complex, but you can only start keeping track of this kind of data once you have linked the platforms.
The great thing about using Google Analytics and the Google Search Console is that you can organize all the data into a simple spreadsheet. You will be able to see precise percentages of how much traffic you are getting from branded searches and non-branded searches.
The Google Search Console dashboard is very straightforward when compared to Google Analytics. As a result, many business owners prefer to evaluate data exclusively through Search Console. However, keep in mind that Search Console only collects Google data and not other search engines.
How to Increase Non-Branded Organic Traffic
Now that you have an idea of how to track your non-branded organic traffic, let's talk about how you can increase it because that's what it's all about at the end of the day. Let's start with something we have already discussed at length:
Keywords
The same keyword research tools we discussed in the previous sections will also help you find keywords to increase traffic to your site.
Include both highly-used and longtail, lower-competition keywords in the copy of your website, blog posts, social media posts, and even video descriptions to increase organic traffic to your site.
Content Marketing
Content marketing is one of the most effective forms of digital marketing. It will help get your site seen by people other than those interested in making a sale.
Content increases brand awareness and captures people in the "research" section of the sales funnel. If you engage them initially, they will return to you when they are ready to pay for your services.
Reputation Management
Getting a good flow of reviews will also help increase your non-branded traffic. Being on review sites increases your exposure; it allows people to see what they can expect from your service.
Plus, people these days rely on online reviews as much as they do word-of-mouth reviews.
Inbound Links
Inbound links are like road signs to your website. For example, if a popular and credible blog links to one of your pages, many users will click through and land on your website. These entrances count as non-branded traffic, although it's not organic but rather direct.
A great way to earn links is by signing up for HARO (Help A Reporter Out), which connects reporters working on stories with experts who know about the story's topic.
By sharing expertise with a reporter, they will share your thoughts with a broader audience who may come to your website via a link. Aside from generating non-branded traffic, you also boost ranking signals which indirectly results in more organic traffic.
Non-Branded Organic Traffic Value
Non-branded organic traffic is a potent tool for contractors who specifically invest in digital marketing and SEO. The whole point of SEO is to generate customers through search engine clicks. While branded traffic is excellent, you don't need to be an SEO expert to garner branded clicks.
The true power of SEO lies in non-branded organic traffic. When users find your website using industry-related keywords, you garner inquiries that would not otherwise be available. As a result, your ROI increases exponentially by maximizing your reach.