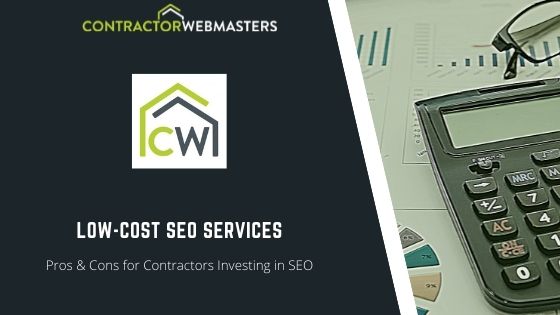 In 2022 everyone knows how essential affordable SEO services are. Whether you run a 10-employee or 100-employee contracting company, you need an aggressive and effective SEO strategy to remain relevant in all your geographical markets. 
After all, leads are the backbone of your business, and lead generation is a full-time job. SEO is the most sustainable way to generate leads but going with the cheapest SEO service you can find could come back to haunt you.
Keep in mind that not all low-cost SEO service providers are low-quality. There are a lot of small agencies out there who are very ambitious to make a name for themselves by doing quality work for as many small clients as possible.
Still, you have to be discerning. In the following article, Contractor Webmasters discusses the pros and cons of cheap SEO services and shows you some tips for choosing the right SEO agency for your needs. 
The Pros of Low-Cost SEO Service
Not everyone has a huge budget to blow on SEO – especially if you are a small contracting company just getting started. So obviously, a low-cost SEO service will be an attractive prospect. Indeed, there is undoubtedly some merit to going with a smaller, more affordable SEO service, including: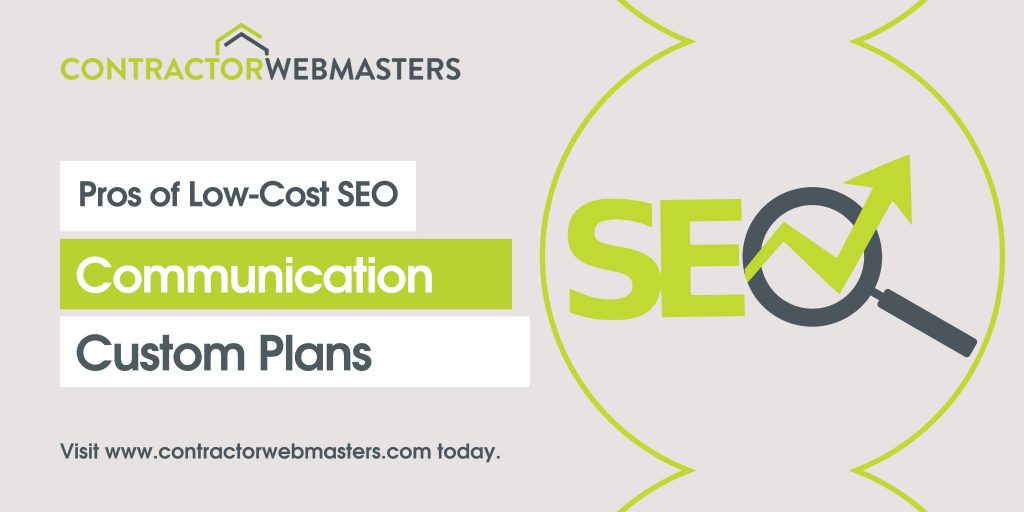 The Obvious: Obviously, one of the most significant advantages to hiring a low-cost SEO service is low cost. Your budget may limit your ability to blow thousands of dollars on SEO services, so going with a smaller, low-cost agency maybe your best option. Plus, when you work with a smaller agency, you can set a specific budget and allocate funds towards SEO practices that you want to emphasize.
Communication: Another huge advantage of working with a smaller, low-cost agency is face-to-face (or virtual face-to-face) communication with agency members. Smaller agencies will typically spend more time with their clients to discuss the goals of the SEO campaign and talk about how best to meet those goals. Smaller agencies are also more likely to explain their processes thoroughly and discuss which methods would be best for your contracting business.
Custom Plans: One significant advantage to working with a small, low-cost SEO agency is that you avoid a cookie-cutter plan. When SEO agencies get too big, they start churning out one-size-fits-all SEO campaigns to meet the demands of the volume of clients they are getting. This may work for specific industries (and that's certainly what they'll tell you). Still, it's not a good strategy for small contracting businesses. A smaller agency is more likely to take a custom approach to your SEO needs.
The Cons of Low-Cost SEO Service
There are always 2 sides to every coin. First, of course, there are cons to hiring a low-cost SEO agency. However, before we get into what those cons are, we should mention that when we say "low cost," we are referring to "low cost and unscrupulous." Unfortunately, there are a lot of SEO agencies that don't really care how they get results so long as they get them. These are the types of SEO agencies that will: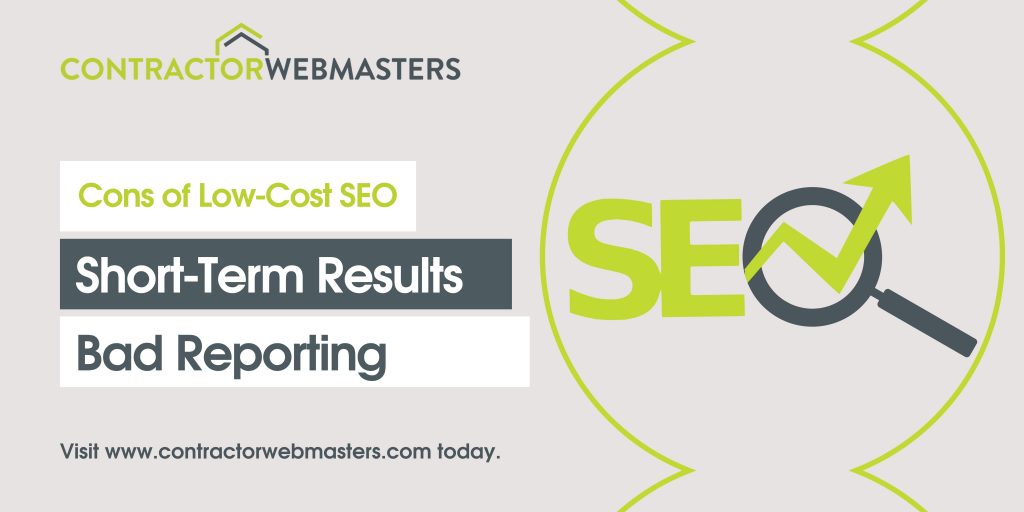 Produce Only Short-Term Results: A shady agency will have no problem producing results for your website through the use of Black Hat SEO practices. However, these practices are 100% unsustainable and will do more harm than good for your site in the long run.
Poor Quality Links: Link-building is an integral part of SEO because link signals are among the top ranking factors for Google and other search engines. Basically, the more quality links you have, the better. The keyword in that last sentence, though, is quality. Search engines penalize websites that use link farms or other schemes to generate backlinks. One of the things you have to look out for when considering a low-cost SEO service is how they develop their links. The last thing you want is a bunch of links from shady sites.
Poor Reporting: Staying in the loop with your SEO campaign is essential. It's the only way you can keep tabs on what the agency you hired is doing and whether or not they are getting results for you. Some low-cost SEO agencies will not provide you with a monthly report or will not go over them with you. Some will provide you with reports but make them so murky and complicated that you won't be able to make heads or tales of them. This is a tactic that some unscrupulous SEO agencies will use to keep you in the dark and intimidate you into not asking any questions.
How to Choose the Right Cheap SEO Service
It may seem that there are many ways you can get cheated by an SEO agency. Still, the good news is that there are certain things to look out for that will indicate a good, low-cost SEO service. Here are some tips for choosing the right service for your business needs:
Avoid Spammy Agencies: A low-cost SEO service provider that spammed your inbox with ad emails is previewing how they plan to market your business. Instead, the best way to choose an SEO agency, if possible, is by word-of-mouth referrals. Ask some of your contemporaries in your field or friends and family members if they know any SEO agency they recommend.
Ask Questions: It's important to ask a lot of questions when choosing an agency. Ask any prospective agency what they know about the latest algorithm changes and how they work within Google terms of service. If they offer a backlink-building service, ask them how they build their links. Ask them to show you portfolios of past projects they have worked on and when they show you, make sure that the sound data goes back at least a year. This will ensure that you work with an agency that can produce long-term, sustainable results.
Work with an Industry-Specific Agency: Many affordable agencies are niche-specific, so they are smaller and can offer lower prices than larger agencies. It is often a good practice to work with an SEO service that knows your industry and has specific experience in it. SEO data varies across industries, so the best practices for doctors and lawyers will differ from that of plumbers and roofers.