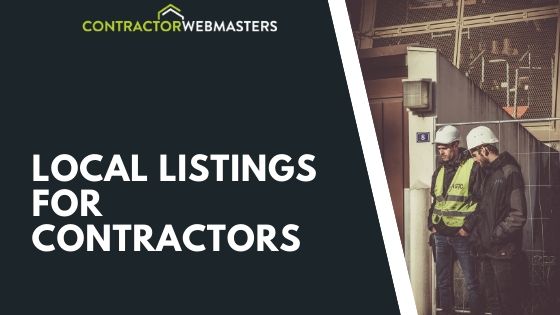 This post guide teaches you about local listings for contractors. They are an integral part of contractor SEO, especially on the local level.
Despite the vast depth of the internet – and how it can feel like a great big world out there – you can prepare your business to be listed so that your local audience can best find you. After all, you aren't looking to advertise to everyone; you are looking to advertise to those you can provide service to.
Knowing where to list your website for those local searches is the key to not only establishing your business locally online but growing it as well. When you make it easier for your audience to find you, you stand a much better chance of growing your business and becoming an authority in the industry.
It is important to have your business information listed on your website first and foremost. Your website is often the very first thing that prospective clients will see before they ever make a decision on whether or not to use your business. If they cannot find a way to contact you, it does not matter if you have the greatest services in the world: your business will fail.
Try putting your information in the footer of each page. This way, no matter where your audience browses on your website, they will be able to find your information. Making it as easy as possible to find that information is the key to ensuring that they have the easiest path possible towards using your services.
After your own website, however, it is important that you get your contractor business listed on other pages. Online marketing can be a time-consuming thing, but properly listing your website can help you develop the leads that your business needs to continue growing.
Why business listings are essential to your business
There are a few different reasons that establishing listings on various business websites are essential to the health of your business.
The first and most important is due to the reviews that your customers leave. What you might not have realized is that these reviews play a key role in your SEO rankings. That alone would be reason enough to gather those reviews. But the reviews also play a role in establishing the credibility of your business in the eyes of your audience.
When customers look into a business, they are looking into the credibility and reliability of that business. Reviews are the quickest and most reliable way to determine these things. Prospective clients will look to these reviews and treat them with the trust that is reserved for recommendations from family and friends. That is how important these ratings and reviews are.
Lastly, it is important to establish your business on these listing pages simply for the number of eyeballs that each of them brings to the table. There are some, like Facebook which we will touch on later, that reach hundreds of millions of users each day. Even on the lower end of the spectrum, the business listing pages that reach a couple of million visitors each month are a substantial amount of eyes to potentially put onto your business.
Here are the business listing pages that you need to not only be aware of but where your business has to be listed. When you register with each of these websites, your business stands a much greater chance of being seen.
Google My Business
Since Google is the premier search engine in the world, it is important that you have an accurate business listing through their service. Every local business out there, contractors included, should verify their business through a Google My Business listing.
Registering your business through Google My Business is especially imperative because Google itself owns the service. It is the most popular search engine there is and a verified Google listing will get your business to the very front of local searches for your designated keywords as well as in Google Maps.
This will help to strongly bolster the SEO of your website and the content as well. Not only that, you can get reviews through your Google My Business listing as well. This helps your overall SEO ranking, boosting your visibility and bolstering the reputation of your business as a whole.
Those reviews are possibly the most important aspect of any business and its online presence. Google values those ratings heavily in their search ranking algorithm and making certain that your reviews are both visible and thorough can mean all the difference in the world.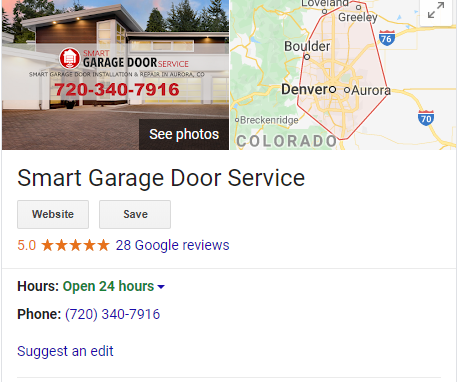 Yelp
You will notice a theme through these listings and that is the rating aspect. Ratings are the best way to develop trust with your audience. The vast majority of prospective clients out there will look to reviews of the business they are looking into. They take those recommendations and reviews to be nearly as trustworthy as a recommendation from a friend or family member.
Yelp is one of the largest review sites out there and controls a huge share of search engine user traffic for many different keywords. Not only that, Yelp receives in the neighborhood of 28-31 million visitors from search traffic each month. That is a staggering number and that number alone should be a reason to make sure you have a verified and updated Yelp listing.
From an SEO perspective, building these consistent business citations as well as building backlinks to your website from reputable exterior sites will help to establish the credibility of your website and will help increase your website's overall search engine presence.
Angie's List
With a monthly traffic toll in the 4-5 million range, Angie's List is worth the trouble of creating a listing just for that kind of traffic. That is a large number of eyeballs that could potentially be viewing your company and taking a look at your website.
Making certain that your contractor business is listed on Angie's List will get you more exposure than just about any other avenue and will get you in front of a large audience that is looking for services in your industry, effectively narrowing down the search and putting relevant eyeballs on your service.
Like Yelp, you can gather reviews here as well. It can't be stated enough that these reviews are absolutely essential to the growth of your business. When you can gather a litany of reviews from a number of different sources, you become all the more viable in the eyes of potential customers and your brand becomes far more trustworthy for simply being listed and rated on each of these pages.
Google Business also picks up listings from across the web, so these will add to your reputation and will help push your website to the top of the search rankings for relevant keywords in your location. That is a win-win-win across the board.
The more relevant websites that your business gets listed with – and the more of those that you can earn positive ratings from – will only bolster your business in the search rankings and will make your business not only more relevant but more trustworthy.
Facebook
While Facebook has certainly taken some flack over recent months for how they share your private information, they still remain one of the most relevant places on the web to establish your business. With hundreds of millions of users that log into the website each day, that is a massive audience even when you parse it down into the relevant categories.
When you create a business page listing for your company, you provide an avenue to interact with current and potential customers, showcase reviews, pictures of what your business can offer, and so much more. Simply put it is one of the most effective ways of interacting with your audience while providing those ever-important reviews that drive your business.
Facebook is not specifically targeted at contractors, but it remains one of the most essential methods for contractors (or any business, really) to reach their audience and grow their business. Social media, in general, is great for building relationships with your audience, addressing any concerns that they may have, sharing any specials or discounts, and so much more.
Facebook is also one of the premier spots to build your reputation. Because of the ability to leave reviews and interact with clients, you can generate so much more in the way of discussion about your brand. That brand awareness can make all the difference in the world between a fledgling business and one that is thriving.
Creating a Facebook business page is essential and something that your business needs to do immediately if you have not already established one. It will be a major marketing tool in the digital world and will be a prominent key to building your business.
HomeAdvisor
Back to the niche sites, the ones aimed specifically at the industry. Though HomeAdvisor is not nearly as large as some of the other sites around – it gets monthly traffic of around 2-3 million visitors – it is a very popular option and one that is growing as a viable place for listing your contractor business.
Because of its niche in the contractor business, HomeAdvisor has become one of the trusted places online for those looking to find a reputable contractor. This is a great place for generating high-quality leads that can eventually lead to conversions and those reviews that can make a business live or die.
Google Business listings also promote reviews left on HomeAdvisor, so your website could be getting a multitude of promotions in one shot. When you sign up through HomeAdvisor and get those valuable reviews, it strengthens your SEO rankings and makes you all the more trustworthy when it comes to your audience.
Trustworthiness is the name of the game and any way that you can build that trustworthiness is essential. This is just another trusted source for building your brand reputation and for developing that all-important trust with your audience that businesses clamor for.
Linkedin
This is a bit of a tricky one. Traditionally, Linkedin has been meant for developing contacts within specific industries and potentially finding employees for hire. But in recent years, Linkedin has been adding a litany of new features for businesses. Being able to create a free company page, similar to those on Google and Facebook, is a way to establish your business on the site.
Visitors will be able to follow your page and can even interact with the content that you have posted. This is great because you can post informative content that will help your SEO rankings and will allow followers of your page to interact and follow that content.
Posting daily updates for your company can attract those followers of your company page to interact with you and it can help to bolster your reputation. When you can develop a reputation as one of the leaders in the industry, you will become a reference for those seeking out services that are relevant to your business.
These business listing pages, as you can see, are powerful tools for building the credibility of your business and getting that business in front of millions of viewers each month. There are many different aspects of online marketing that you have to factor in and this is just one of them.
Establishing your business on these pages is just a portion of the process but it is an important one indeed. Becoming relevant and reputable on each of these pages is a massive step towards becoming a successful online marketer and making your business grow steadily.
Best of all, it only takes a few minutes to establish your pages on each. You can promote your listings on each of these pages through your website, encouraging visitors to check your listings on each page. This strengthens your business as an authority in the industry and it strengthens your brand as one to not only be recognized but one to be reckoned with.
Make certain that you establish your business with each of these listings as soon as possible. The longer you wait, the more eyeballs that potentially miss your business. Don't let them go unnoticed again.