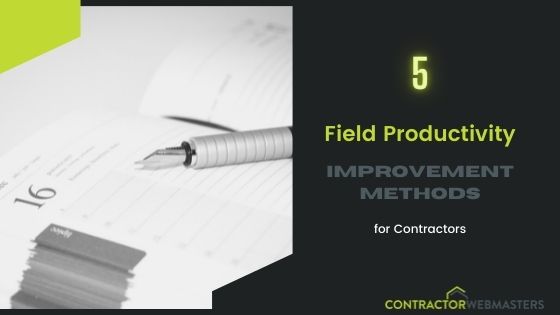 As a contractor, you already know how hard it can be to keep your crew on track in the field. You see different work sites every week, and they all present their own unique challenges. Then you have to deal with logistics, supply management, and customer relations in the field.
It can be a real challenge for project managers, but the good news is that technology has come a long way in field operations. You can use all kinds of digital tools to streamline field operations and improve field productivity. 
In the following post, Contractor Webmasters discusses some of these tools and ways to improve field productivity in the coming year. 
1) Project Data Software
The first thing you should do to improve productivity in the field and in the office is to go paperless. Using project data software in the field can be especially helpful, though. That's because on-site projects can present a lot of unexpected challenges. From inclement weather to a lack of on-site storage space, having many paper files, plans, supply order forms, and invoices can be a massive headache.
Eliminating paper project data (of all kinds) will also be more economical because you won't have to pay anyone to keep track of it. Granted, some of these software suites are a bit pricey and require a monthly or yearly subscription fee, but you stand to gain a lot more time.
Digital organization of important project data will also reduce some human error and help keep projects on track. You know that foreman with the chicken-scratch handwriting that no one can understand? Imagine that not being a problem anymore.
Another great thing about digital project data storage and organization is that information can be instantly shared across multiple devices with multiple crew members. This will save a lot of time that you would typically send walking or driving essential documents over to the parties that need them in the field.
So, while some of these software suites may have a learning curve, they offer long-term, sustainable benefits for your field operations. 
2) Fleet Maintenance
This may seem a given, but we hear about fleet failures holding up projects often. Keeping up with the maintenance of your service vehicles is crucial to your workflow. The project and your reputation are at serious risk when you can't get the personnel or equipment to the job site.
Luckily, technology can help in this department too. Some pretty intuitive and helpful fleet maintenance software suites are available for contractors and project managers. One of them is from FleetSoft, but there are other options available. The good thing about these software tools is that they are scalable, so no matter how large or small your fleet is, they will help you maintain it.
With these kinds of tools, you can have a detailed maintenance and repair history for every service truck and vehicle you use in your daily operations. It keeps all the data in the same place, and you can quickly pull up maintenance history. No more fumbling with maintenance invoices and notes you jotted down about your trucks. You can also schedule maintenance and get alerted to upcoming maintenance needs.
It's about more than keeping your vehicles on the road, though. Many of these kinds of digital tools will also allow you to assess fuel usage. With these features, you can optimize your fuel usage and save money. In addition, most of these software suites will allow you to track fuel purchases and mile-per-gallon data.
All of this information could be used to extend vehicle life, save money on fuel, and track fuel economy for every vehicle in your fleet. 
3) Worker Communication Tools
You already know how important communication is to improve field productivity. That's why worker communication software is one of the most crucial tools to incorporate into your daily field operations. You won't be able to call (and hear) your workers on a busy job site. So you should opt for a software suite with a streamlined and robust text-based communication platform. 
However, suppose you will invest in any communication software (and you should). In that case, you must ensure that it includes a video and voice call platform. Some developers also make software ideal for communicating with customers and allows you to track them as well. Some of these suites will also allow you to track workers and vehicles via GPS or RFID codes.
This can be very beneficial when you are trying to delegate personnel to different job sites. In addition, contractors with larger teams who take on multiple projects at once will appreciate the ability to communicate with and keep track of team members or on which sites.
4) Operations Analysis Tools
Getting a little help with operations analysis never hurts. Even if you're an experienced project manager with a solid analysis process in place, you can eliminate the risk of human error with operations analysis tools. These tools will help you keep track of personnel, tools used on the job, project progress, revenue, overhead costs, and more. Not only that, it will help you make sense of all this data.
Operation analysis tools help you complete jobs quicker, provide accurate project completion estimates, and calculate costs. If that weren't enough, they help you accurately predict the tools, supplies, and equipment needed for upcoming projects. Keeping ahead of all this information will allow you to attack a job correctly and have everything your crew needs to complete it on time. 
5) Customer Communication Tools
Customers really appreciate when they are in the loop and can approve projects at their leisure. This is why customer communication software can be beneficial for your business. These types of software allow you to send proposals for the customers' approval instantly.
They will enable them to submit it as quickly as they want to. It also provides a dedicated line of communication between you and the customer at all times.
You can also share the project process with them instantly without meeting in person or calling them on the phone. Just as it's essential to communicate with your team, your customers will appreciate the ability to bend your ear whenever needed. 
Get More Customers
Of course, the best technology in the world won't help if you aren't getting enough customers to sustain your business. That's where we come in. We are Contractor Webmasters and specialize in helping contractors of all kinds earn more customers through proven digital marketing tactics.
We help contractors in the field with DataPins, a local SEO and reputation management tool that produces pins each time one of your techs performs a job. As a result, you rank in more cities and service areas on Google Search and Google Maps. Feel free to reach out to our team today.