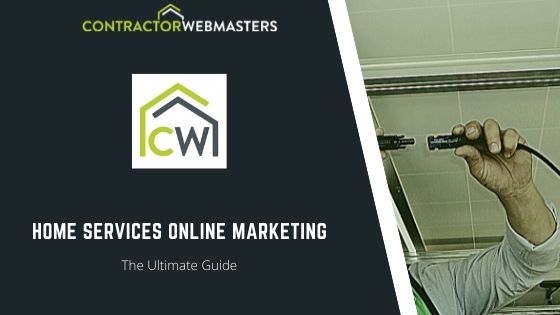 Home services online marketing can present various challenges for businesses navigating the digital marketing landscape in 2023. However, one great benefit of digital marketing is that it has given smaller companies a chance to compete with larger ones. 
Several proven strategies spark success for home service business marketing, including SEO, email marketing, or home services advertising. In the following post, Contractor Webmasters outlines several methods to maximize digital marketing for home services in 2023.
What is Home Services Online Marketing?
Home services online marketing is a series of tasks aimed to promote a home services business on the internet. For example, roofing SEO, plumbing PPC, and HVAC social media marketing are all part of home services internet marketing. Companies must decide the most vital tasks based on needs, location, and opportunity.
Home Service Provider Marketing Strategies
Marketing is a massive-scale endeavor that can entail as much or as little as your company chooses. However, the intelligent course of action is to attack the digital landscape from all angles to maximize lead generation, return on investment, and general brand awareness in 2023.
Email Marketing for Home Services
Email marketing is an effective promotional method for contractors. Research shows that 89% of marketers use email as their primary channel. Additionally, open rates increase as you segment subscribers into sub-lists based on their specific needs and interests.
Companies can gain email subscribers in multiple ways, from in-person interactions to website sign-up forms. In addition, when using an email marketing platform like AWeber, businesses can comply with the CAN-SPAM Act, which requires unsubscribe links and a verified mailing address.
Local home service companies can earn repeat business from customers, making email segmentation much more potent. The majority of homeowners require regular maintenance for their properties, appliances, and other in-house mechanisms. Forming a solid relationship fosters repeat business.
Home Service Website Marketing
Your website is the foundation of your digital marketing campaign. It connects with other aspects of your online presence, including your Google Business Profile and Facebook Business Page. Most importantly, websites with robust search engine optimization attract organic visits.
An effective website meets SEO standards while providing a good user experience for visitors. For instance, a fast-loading website with clean navigation and high-quality content keeps users engaged. In addition, the best websites feature calls-to-action (CTAs) that help generate leads.
Owning your website's domain name as a local contractor is vital. Domain names gain value as they age and establish indexation on Google search results.
Think of your website as a piece of digital marketing real estate that increases in value over time. The more you invest in the website, the more valuable it becomes in the marketplace.
Home Services SEO Marketing
SEO for contractors produces the most efficient leads for home service companies. Ranking on Google search results typically results in high-quality leads with a high conversion rate. This is true whether your leads come from Local SEO via the Map 3-Pack or from traditional organic SEO.
Marketing your business with SEO is one of the least expensive ways to generate leads. Claiming a Google Business Profile is free; you can upload photos of your staff without assistance. Optimized business profiles can show up on Google Maps within days or weeks.
Of course, the highest-ranking businesses invest more heavily in their SEO campaign. However, acquiring consistent organic traffic requires a full-scale effort with keyword research, link building, and content writing.
A well-constructed website with a quality site structure is also critical to SEO.
Keyword Research for Home Services
Every home service business owner should target long-tail keywords on their website. Long-tail keywords are more descriptive and specific, targeting consumers who are more likely to spend money on goods and services.
Let's say you own a flooring business. An example of a standard flooring company keyword would be flooring installation. Although the term registered substantial monthly volume, it also garners significant competition. Furthermore, it may not convert at the highest rate.
On the flip side, examples of a long tail flooring company keyword are flooring installation in Everett, WA or cherry wood flooring installation. The former does one crucial thing: it ensures that you attract consumers in your local market. The latter does another important thing: it attracts consumers already looking for specified services.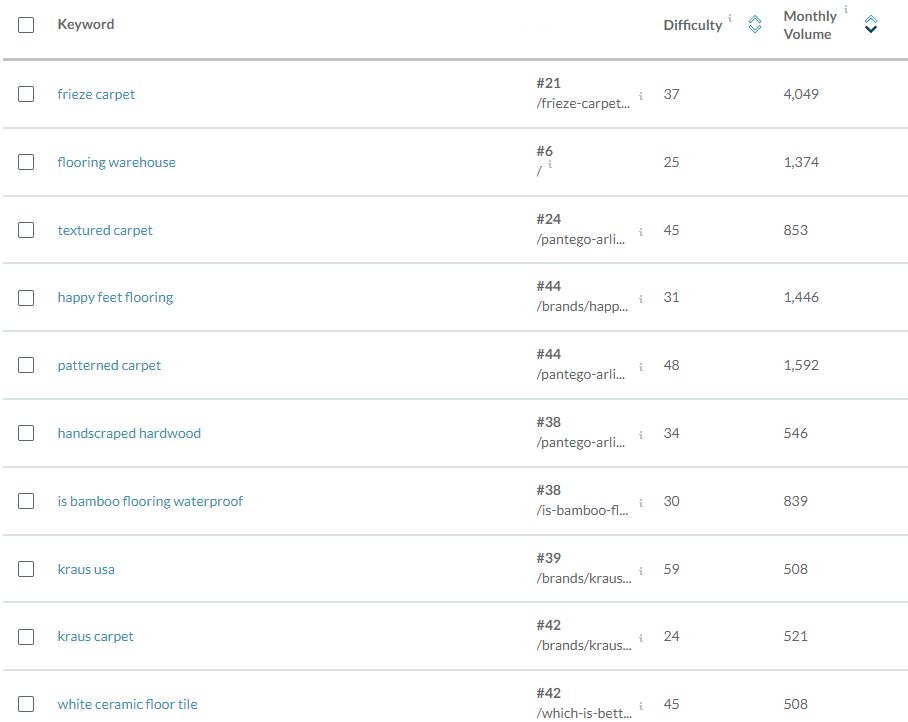 Home Service Content Marketing
Home service content marketing can provide a huge boost not only to your web traffic; but also to your lead generation. The emphasis on content marketing has only grown among professional marketers. So how can you get in on the action? There are some simple and easy ways:
Start A Blog: Did you know that 92% of professional marketers use blogging in their strategies? Starting a blog is a great and cost-effective way to increase traffic to your site. Start by coming up with blog topics based on your target keywords. Using the aforementioned long tail keyword example, one of your topics could be the benefits of cherry wood as a flooring material.
Create Videos: Video content is also wildly popular and can dramatically increase your online exposure. "How to" videos are a great place to start, as 86% of YouTube users report taking to the platform to learn how to do different things. YouTube is an excellent opportunity to reach homeowners and teach them to do something basic. Again, using the same flooring example, one of your "how-to" video topics could be on how to maintain cherry wood flooring.
Social Media Posts: Of course, you can't forget about social media. Your customers are still spending hours on social media every day, so you have to ensure you are present with some engaging content. Try starting a poll related to your specific field. Funny memes related to your trade are also a great way to increase views.

PPC Advertising for Home Services
Pay Per Click Advertising works by displaying your ad to online searchers above the organic results. Though Google Ads are not as sustainable as organic SEO, they offer a valid option for new home service businesses to increase brand awareness.
With Pay Per Click, you only pay the ad publisher when someone clicks on the ad – as the name implies. PPC clicks tend to convert less frequently than organic SEO, but you receive more overall clicks. There are certain vital advantages to PPC as a means of home services online marketing:
Set your Own Budget: You can set a weekly budget for clicks, so you don't have to worry about going over budget.
Attract Likely Customers: PPC ads can also be based on specific keywords and customer location so that you attract a particular clientele. This kind will most likely be ready to pay for your goods and services.
Broad Internet Coverages: The best PPC ad publishers have extensive networks, which means your ad will be seen in various contexts.
PPC advertising is best utilized alongside a solid organic marketing strategy. Furthermore, your website and landing pages should already be optimized for maximum conversion rates.
Local Marketing for Service Businesses
Home service providers can maximize their online presence with a local marketing tool like DataPins. The tool publishes schema pins to your website each time you perform a job. As a result, a floor installation in Houston, TX, would show on your flooring installation service page and Houston, TX, city page.
Reputation is a significant part of local marketing for home services, which is why you must monitor your online reviews. You can automate review requests through DataPins, which sends text and email reminders with a link to your review form. Furthermore, monitoring reviews on Google, Yelp, and Facebook is essential.
Home service businesses often work in multiple service areas, creating local marketing challenges. However, you can validate your service areas with DataPins and website location pages.
Using the above methods, you will notice ranking improvements on Google Maps and Google Search.
Final Thoughts on Home Services Online Marketing
Home service businesses differ from storefront businesses in that they travel to their customers rather than customers traveling to their addresses. As a result, home service companies require a unique marketing strategy for Local SEO. The DataPins tool is designed to create and distribute Local SEO signals for Google Maps and Google organic rankings. Business owners can rest assured that ranking their home services company is possible with the right marketing strategy.