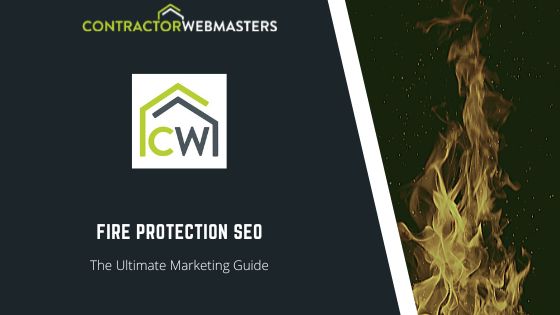 Fire protection SEO is a fantastic way to generate leads in 2023. Fire protection companies provide an essential service. They help give peace of mind to home and business owners looking to secure their assets and prevent catastrophic property damage.
Research shows that 97% of consumers use search engines to find local businesses. As a result, your fire protection services must appear on Google's Local Map 3-Pack and standard organic results.
In the following guide, Contractor Webmasters outlines how to earn more customers online with SEO marketing.
Google Business Profile
The fastest way to rank on Google is through a Google Business Profile. Claiming your business on Google is free and easy, requiring only a postcard verification at your business address. You can start by claiming your business on Google Business Profile.
Being present on Google My Business allows your listing to appear on Google Maps and the Google Map 3-Pack. You don't even need a website to rank on the Google Map Pack though it certainly helps to have one.
Getting set up on Google My Business is pretty straightforward. Still, you must verify your business with Google by sending them a postcard with some information about your business. But the service is free and will significantly improve the online visibility of your fire protection business.
Setting up a GMB listing helps your business rank locally.
On-Page SEO
On-page SEO refers to adjustments made to your website pages and posts. For example, editing title tags, enhancing content, and inserting target keywords all aid on-page SEO. You can take a closer look at the primary on-page SEO elements below:

Keyword Placement
To rank for relevant keywords, they must be present in your title tags, header tags, and body content. Keywords inform search engines that your website has information relevant to user searches.
Keyword research tools will help you find the right keywords for your services. But then, it's just a matter of incorporating those keywords into your site's written content, titles, and headers.
Image Optimization
You should have at least one high-quality image on each of the pages of your website, as images certainly help with SEO. Just be sure that you add alt text (a description of what the image portrays) to each image and that each image is HD, in focus, and relevant to the content on the page.
Internal Links
Internal links are on-page links that lead to other pages on your site. Every website page needs at least one internal link as they allow web crawlers to scan the entirety of your site. Of course, internal links should also benefit the user by providing topically relevant resources.
Review Management
Online reviews are critical to your business. Not only because they generate consumer buzz about your company; but because they are great for SEO too. You must start by being present on multiple review websites like Angi, Yelp, and HomeAdvisor.
Once you start getting more reviews, you must manage them and respond. Try to reply to every review, whether good or bad. DataPins offers a beneficial tool to help you manage reviews across multiple platforms and display feedback on your website from 3rd party sites.
Remember to ask for reviews in person when it's appropriate. Accumulating consistent reviews boosts credibility and makes your business more attractive to prospective customers. Most people will leave a review if they are asked three times.

Social Media
Social media is a powerful marketing tool to increase brand awareness and generate leads for your fire protection business. So make sure your business has a Facebook Business page and is present on social media platforms like TikTok, Instagram, and LinkedIn. 
Instagram and Facebook are beneficial for actually engaging customers. Of course, paying for targeted Facebook Ads will speed up the lead generation process. Still, you should be present on Facebook for SEO purposes, even if you have no intention of paying for social media ads.
Consider starting a Facebook group where locals can join and ask you important questions about fire protection for their homes and businesses. In addition, you can share your expertise on various insurance procedures and other industry knowledge. 
Remember, though, that groups aren't meant for you to push your services on consumers. Instead, they build goodwill between you and your community, which may indirectly result in customer acquisition.
Social media signals contribute to SEO rankings, especially for local businesses.
Content Marketing
These days, content is what gets you noticed online. And there are ways you can generate content centered around your niche that will drastically improve fire protection SEO. In many ways, content is SEO currency, as high-quality pages and posts help you rank for keywords and earn backlinks. Here are just a couple of ideas to invest in content marketing:
Content is the currency in the SEO landscape, so creating great assets pays dividends.
YouTube Content
Making a YouTube account for your company is free. You can use the forum to post videos that answer consumers' burning (no pun intended) questions about fire protection.
Blog Content
Blog posts present an opportunity to target high-volume informational keywords. Unlike service pages, which target a narrow scope of consumers, blog posts target a wide variety of readers. Few of these users will buy your services initially, but they may enter your sales funnel.
City Pages
Most fire protection companies serve more than one city. Even though your primary address is located in a town, you also serve nearby zip codes. Therefore, you need city pages to attract customers on the outskirts of your primary location. You can enhance these pages by adding DataPins software.
Link Building
Building links is integral to SEO for fire protection services in 2023. You can earn links by creating great content, as mentioned above. The more high-quality blog posts you produce, the more links you earn. Other ways to get links include using HARO to pitch information to reporters. These reporters will provide a link back to your main website.
Hire a Fire Protection SEO Agency
Fire protection SEO can be time-consuming, but we're always here to help. Find out how Contractor Webmasters can generate more leads and customers for your fire protection business through our powerful SEO marketing system.