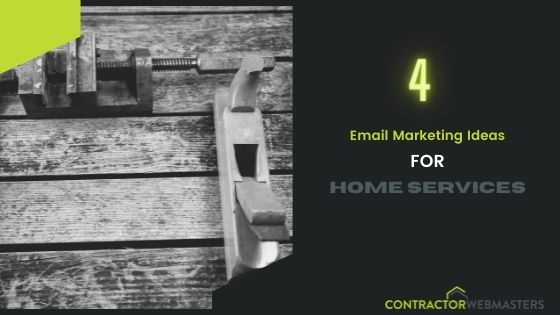 When it comes to online marketing for home services, email marketing is one of the most effective strategies. Promoting your company through email is an excellent way to intrigue prospective customers while keeping existing clients engaged.
In addition, the numbers back up email marketing as a profitable promotional investment, producing one of the highest ROIs for marketers.
As a home service business owner, you need to ask yourself one question: are you effectively utilizing email marketing? Or, to take it a step further, are you utilizing email marketing at all?
One advantage of email marketing for home services is that it's never too late to start, and it's relatively easy to get started. However, you must build a solid foundation if you want consistent results. In addition, you must be willing to go the extra mile to make your messages stand out.
Contractor Webmasters explores effective email marketing messages for home service companies in the following post.
1) Compile an Email List
Any effective home services email marketing strategy begins with an email list. To compose your email list, pull from your current and past customers. Then, when people sign up for an estimate on your website, save their contact information in your subscriber list.
You want to gather the email contact information of anyone who has shown interest in your services, whether they completed a transaction or not. Most companies use a CRM to store contact information for existing customers. In addition, you can transfer email addresses from that platform to your email marketing platform. Sometimes, CRM platforms perform both duties.
Once you have your list, it's time to segment it. It's not a good idea to send duplicate emails to your entire email list. Instead, figure out what content addresses each segment's needs. Here are a few basic ways to group your contacts:
By Location: If you service multiple areas, you can group customers and leads by zip code or area of service.
By Service: Evaluate past customers' services and group them by service type. You can include people interested in a particular service but have never completed a purchase.
By Anticipated Service: A great salesperson will anticipate the customer's needs. Take a look at service dates and types of service your past customers have paid for and try to predict the next service they will need. For instance, if you installed carpet for a homeowner a year ago, maybe they could use a professional cleaning right about now.
2) Keep Subscribers Engaged
It's not always about making a sale because, quite frankly, one customer will not constantly need your services. It's just as crucial that your company stays fresh in the minds of your customers so that when the market does arise again, they will think of you first. 
To that end, it's vital to include emails that aren't about promotions, sales, or new services. So here are some email marketing content ideas that will provide value to your customers and keep your business at the proscenium of their minds:
Thank You Emails: Always follow up with your customers with an email of appreciation thanking them for their patronage.
Seasons Greetings: It's not hard to drop a line saying "Happy Holidays" or "Have a Safe & Fun Halloween."
Informational Emails: It's always a good idea to share information with customers regarding your particular service. Try sharing snippets of a recent blog post you wrote about a specific aspect of your service or trade.
3) Personalize Email Content
Including a personalized subject line or content in your emails can increase open rates by a significant margin. In other words, more people are likely to open up an email addressed to them instead of a generic email blast. There are a few ways to personalize email subject lines:
Include a Name: Perhaps the easiest way to entice recipients to open your email is to mention them by name in the subject line.
Include Service Specifics: If you already know what service of yours a lead has expressed interest in, send them emails with subject lines about that particular service.
Mention Service Anniversaries: If it's been a year since your customer's last HVAC tune-up, roofing inspection, attic cleaning, window washing, or other home services you offer, mention that in the subject line. "Can you Believe a Whole Year has Passed Since your Last……" is an example of a compelling subject line with personalized content.
4) Optimize Send Times
There is no universal answer to the question, 'when is the best time to send marketing emails?' It differs depending on your field and your clientele. However, using an email marketing service would help track things like open rates, open times, click-through rates, and even conversion rates.
It will take some time but keep a close eye on these metrics to pinpoint an optimal time to send your emails. Of course, you can't get a clear picture of optimal send times until you compile an extensive list of emails. For example, 100 email subscribers is not a large enough sample size to pinpoint optimal send times. However, once you reach 1,000, you can get a good feel.
Many studies suggest that emailing around 10 AM on Tuesday through Thursday is optimal. However, remember that data from these studies may come from various industries. You can get a more specific data set by conducting internal measurements. Since your customers are unique to your industry, your numbers are more helpful than 3rd party research.