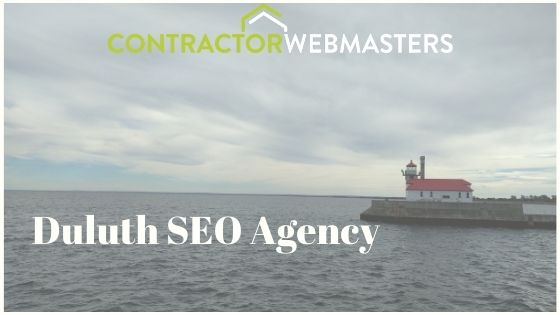 Top-Rated Duluth SEO Company
Contractor Webmasters is the #1 Duluth SEO agency for business owners. We provide SEO services to help companies improve online traffic, lead generation, and conversions. In addition, our software suite helps automate tasks.
About Contractor Webmasters' Duluth Digital Marketing Agency
Contractor Webmasters focuses on SEO for Duluth, Minnesota businesses through search engine optimization and software solutions. Unfortunately, old-school SEO doesn't work well today, but you can still rank using new-school SEO.
We provide cutting-edge SEO solutions, including a software suite that embeds Geo-maps of your latest jobs through schema markup. As a result, our clients perform well on Google Maps and Google Search.
Duluth business owners understand the city's competition level, with more than 87,000 current residents. As a result, Duluth is no stranger to innovation and hosts some of the state's top businesses.
Our services mirror the spirit of Duluth business owners by providing innovative and scalable SEO solutions. As a result, Contractor Webmasters' clients regularly enjoy a substantial ROI on their SEO investment with one of the most affordable agencies in all of Minnesota.
What is Duluth SEO?
Duluth SEO is the process of optimizing Duluth-based companies on search engines like Google. SEO primarily targets clicks from Google Search and Google Maps via Google's Local Map 3-Pack.
To rank on Google, we optimize clients' websites and Google Business profiles, the two primary entities through which to generate clicks on search engines. Of course, we also tend to other SEO factors.
Does SEO Work?
SEO works with software suites that provide increased value to websites and users. Old-school SEO strategies such as keyword stuffing no longer work. Similarly, writing basic blog posts no longer garners clicks.
Aside from the results SEO produces, the process itself is rather in-depth. For example, technical SEO encompasses everything from sitemaps to site speed. At Contractor Webmasters, we develop technically sound websites.
Basic SEO practices are a prerequisite for successful businesses rather than a luxury. Duluth companies require premium content, additional software solutions, and intelligent internal linking to defeat competitors online.
Our agency is committed to producing excellent Local SEO results that drive measurable ROI for small businesses. In addition, we offer affordable SEO services along with month-to-month agreements.
Standard Operating Procedures for Duluth SEO
Custom Websites
Companies with existing domains will get a new custom design with an intelligent URL structure. In addition, our websites feature responsive web design to ensure ideal presentation across all devices, from mobile to desktop.
Local SEO / Google Maps
The key to Local SEO is Google Business Profile. We optimize GBPs for each client and strengthen ranking potential through optimization and website connection. We also offer Local SEO software solutions.
Keyword Research
Our SEO strategies conduct advanced keyword research to target highly relevant terms within your industry. Of course, anyone can target the highest volume of keywords. Still, only proper SEO strategies understand the power of long-tail variations.
Premium Content
Our agency's in-house content department produces high-quality content for each client. In addition to unique service pages that target specific keywords, our team also crafts Google Posts and blog posts.
Reputation Management
As one of the most pivotal SEO factors, our agency provides software-driven reputation management services to each client. Our software automates review requests and showcases reviews on your website.
What Separates Contractor Webmasters' SEO for Duluth Businesses?
We understand. You have lots of choices for your SEO agency. Contractor Webmasters provides software solutions you can't find anywhere else. Our local software produces GEO-schema maps for signaling and social proof.
Writing 500-word blog posts that target keywords is not an effective SEO strategy. Instead, Google prefers user-generated content that showcases your essential services. Our software ensures those signals go directly to Google.
Perhaps most importantly, our agency provides affordable SEO services on a month-to-month basis. As a result, none of our clients are locked into long-term contractors, which keeps our agency accountable and your business thriving.