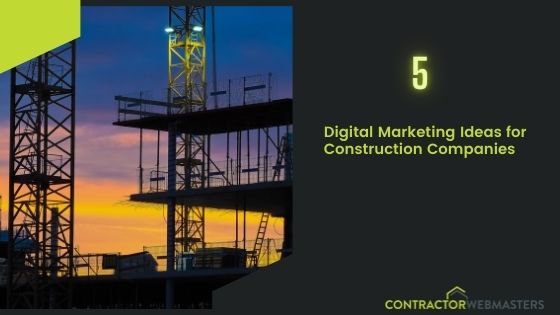 Digital marketing for construction companies is an ever-evolving concept. What was the right way to market your company just a couple of years ago may not be the right way today. So today, we would like to be your Sherpas through the ever-shifting terrain of digital marketing for construction companies. In the following post, Contractor Webmasters will share some of the best digital marketing practices specifically for construction companies. 
1) Remarketing Ads
We want to start our list with remarketing ads because they are quickly emerging as one of the most effective ways to market your company and convert leads. How effective, you ask? Allow the following statistic to answer this question: consumers who see remarketing ads are 70% more likely to make a purchase.
But what is a remarketing ad anyway? Remarketing is the process of showing an ad to specific consumers who have interacted with your brand, visited your website, or have otherwise shown interest in your services. In other words, these types of ad target leads specifically – the people who are most likely to need your assistance.
It may sound invasive but let us hit you with another stunning statistic: 25% of consumers enjoy seeing remarketing ads as they typically pertain to their interests.
2) Video Marketing
We don't have to tell you how popular YouTube is. You probably spend a decent amount of time on it yourself. However, if you are a construction company owner and aren't using YouTube to your company's advantage, you miss out.
YouTube is a powerful marketing tool. How? Because it can help you engage with your target market, establish trust and make it more likely that people will come to your company when they need construction services.
How-to videos are perfect when it comes to digital marketing for construction companies. YouTube videos are an excellent opportunity to show people that you know your stuff. You don't have to give away any trade secrets. Just some basic how-to's like "How to Use a Measuring Tape" or "How to Find a Wall Stud" would greatly help a surprising number of people.
Video marketing is your opportunity to make your company known to a vast audience! Not only that, 90% of consumers find new brands and companies through YouTube videos. And people remember when they've been helped.
3) Reviews
Right off the bat: if your construction company doesn't have any online reviews, you are doing something very wrong. People trust online reviews more now than they ever have. Online reviews tell people that your company is worth trusting, that it offers the services they need, and that you care about the customer experience. 
Again, if you have little to no online reviews, it probably means that you aren't registered with online review sites. As a construction contractor, you need to make sure that your company is listed on review sites like Yelp, Houzz, Angie's List, and Google My Business. Being present on as many review sites as possible is the first step towards getting precious online reviews.
The second step is asking for reviews. Don't be afraid. Remember that 70% of consumers will leave a review if asked. However, you must be careful not to entice them to leave a fake or overly positive review, violating guidelines. Incentivizing reviews is clearly against guidelines. Things like free future estimates or small discounts are off-limits.
4) The Right Social Media Platforms
A lot of contractors have the right idea when it comes to social media marketing but execute poorly. That's because they stretch themselves too thin by trying to be present on every single social media platform. The truth is that as a construction contractor, you only really need to be present on about three social media platforms:
YouTube: We've already discussed the merits of marketing on YouTube.
Facebook: Facebook is important because the age of the average Facebook user is 40. That's an ideal age range for construction contractors looking to target home and business owners.
Instagram: Instagram is an essential social media platform because the most prominent age demographic that uses it is people between 25 and 34 years old – great for targeting first-time home buyers. Instagram also provides you with a forum to show what your company can through simple posts or Instagram stories.
5) Local SEO
Contractor SEO is a phrase that gets bandied about a lot these days. However, as a construction contractor, you probably aren't doing business across state or even county lines. No, it's more likely that you deal locally. Therefore it's wiser to invest in local SEO specifically. 
Local SEO allows you to take advantage of geographically specialized keywords, schema markup, reviews, and more. It is the same as the broader SEO practices but with a technical focus on your area of operation.
By building social media communities in your area specifically, generating links with local organizations, and getting reviews that mention your area, you can show up on more local searches – and local searches dominate Google and other search engines.