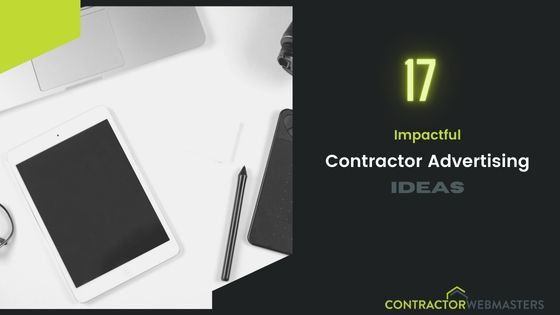 This might sound like the most obvious thing in the world, but generating leads and converting those leads into sales is the most essential portion of your business. Those leads, which then turn into sales, are how you generate revenue for your business. That's why contractor advertising ideas are so critical.
Reaching your audience and generating those leads is where it gets a little less obvious. What might work for one business or industry might not work for your business. It is important to find the marketing methods that work best for your business so that you can gradually grow things to the point that you see steady growth.
If you don't feel like your business is growing – and there has been a recent study that less than half of businesses that are in the construction and contracting industries are actually showing growth – then you need to take charge of your marketing campaign and grow the number of leads for contractors that you develop.
The key is to find those marketing ideas that can benefit your business specifically and develop the kind of leads that will eventually lead to sales. Here are 17 contractor advertising ideas for contractors to consider going into 2023.
1) Make your website efficient and mobile-friendly
Your contractor website is perhaps the most essential tool in your arsenal. This is the very first impression that your prospective customers will see about your website and it needs to set the tone. Most of all, it needs to be efficient and fast and it HAS to be mobile-friendly.
Over 60% of consumers will use a company's website as a way to both find and engage with the business, and 30% of consumers won't even consider a business that doesn't have a website. More importantly, some things have to be there on your website if you want your audience to consider you for their needs.
It has to be fast since the average customer expects a web page to have loaded in three seconds or fewer. It has to be functional, meaning it has to have optimized images and tags. And most importantly, it has to be mobile-friendly. Of all the U.S. online traffic, 57% of that traffic comes from tablets and smartphones.
Your website is a huge weapon or can be a hindrance to your business. Make it the first impression that you want to project.
2) Your SEO is just as important
Just because you have a website doesn't mean that it will generate the leads that you need. What you need to do is to make sure that your contractor SEO and local SEO tools are as good as they can and should be. After all, people need to be able to find your services as easily as possible, and if you have bad SEO, that can be a struggle.
When you optimize your SEO, you can help your company to define the target area for your services, reach a larger audience that could become potential customers, drive your leads to specific services thanks to targeted keyword strategies, and you can improve the quality of the leads that you get from those individuals who are finding your company online.
Optimize your SEO rankings so that you can appear higher on search engine rankings and be seen by more prospective customers than ever before.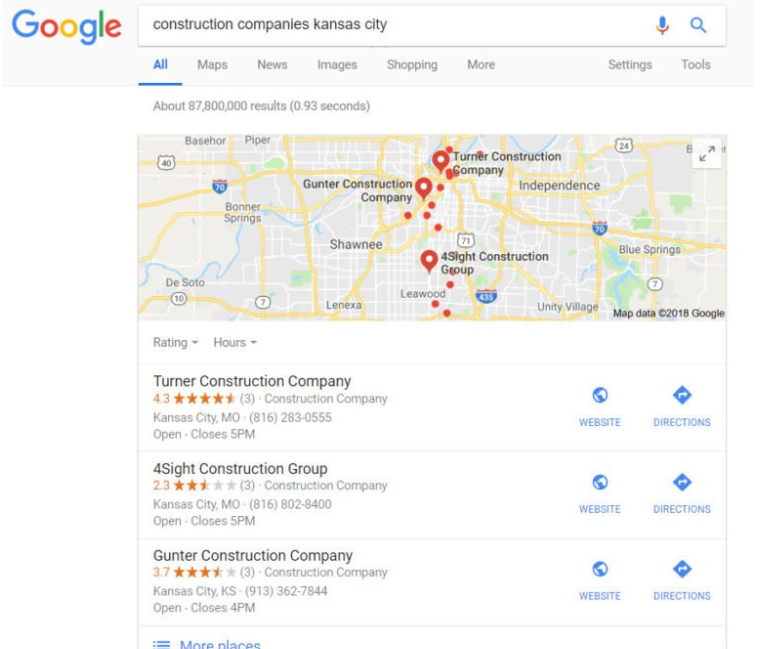 Local SEO allows contractors to appear on Google's Local Map 3-Pack via a Google Business Profile.
3) Pay-per-click delivers results
What is a pay-per-click ad? Essentially, these PPC ads allow contractors to be found on the first page of a Google search immediately. If you are looking to get fast results, it is a great way to get control over your company's relevance and visibility online.
Essentially, you can see ads for your company each time that a user searches through Google, they will see your company. And even better, you only pay for those advertisements when they click on them. That is a win-win. You get the visibility that your company needs, and you only have to pay for it when those ads actually get clicked.
This is a great way to keep your company relevant to local searches and will increase the probability of those searchers clicking on your ad to find out more about your company.
4) Rank in Google's local pack
What you might not have realized is that when you search for a service with "local intent," an image of a map will appear below the PPC ad that shows a couple of different company listings. You can support your digital marketing effort by ensuring that your heading tags are optimized.
Another thing to do is to make sure that you are using listings or local directories. Things like Superpages, HomeAdvisor, eLocal, Yellowpages, BBB, Yelp, and so many more directories make it so that customers can find you and that they can find out a variety of things about you.
When you rank in the Google local pack, you increase the odds of being seen when a local search takes place and increases the odds of turning a potential lead into a sale. This is an incredibly useful tool to grow your business's presence in your community.
5) Leverage email marketing
This makes sense to anyone who is familiar with the fact that our world is almost entirely technology-based. But what you might not realize is that you can leverage your email marketing campaign to build those leads that you need to develop sales that are imperative to your company.
Email marketing allows you to keep in touch with and nurture those unclosed prospects. Not only that, an email marketing campaign is a great way to follow up with repeat customers because repeat customers are an essential portion of any business.
Your email marketing campaign can help you generate more sales by allowing you to advertise any specials that you might have going on, push coupons, and share exclusive rebates; it allows you to improve your brand awareness and helps you keep in touch with your prospective customers.
Simply put your email marketing campaign is a fantastic way to stay in touch with repeat customers and to stay in the consciousness of potential customers. Best of all, you can tweak your email campaign as you want and dictate how often you push these emails out.
6) Social Media supports it all
Social media is all about engaging with your audience and existing customers. Best of all, there are so many different social media avenues to explore. It used to be that Facebook was the only game in town; now, it is just one of many.
Still, using the big three (Facebook, Twitter, Instagram) is almost essential in digital marketing these days. You need to be able to interact with your audience as well as potential customers. Most of all, social media is an excellent avenue to promote specials, sales, coupons, and anything else that you want your customer base to be aware of.
Social media isn't meant to produce overnight results but can result in consistent and steady differences in your overall marketing and ability to turn leads into sales. Get those profiles created so that you can begin that all-important interaction as soon as possible and grow your online presence.
7) Video marketing is growing
One thing that separates good digital marketers from average ones is the implementation of videos into their marketing campaigns. Videos are the best way to build authority for a website, and you can actually have a 2.1% higher conversion rate than your competitors if you use video.
Simply put, video marketing can help you to establish your brand and the personality you want to display, increase your overall online engagement, and convey the differences between yourself and your competitors. It also helps keep the attention of your visitors in a world where attention spans are shorter than ever.
Incredibly, having a video on your landing page can actually increase your conversion rates by a whopping 80%. It's hard to ask for better conversion rates than the ones provided by videos, and they are essential for your website marketing.
8) Implement analytics and tracking
All of these are great ideas to implement, but what good are they if you can't track the results? There would be no way for you to know what is working and when without proper analytics and tracking in place. You would simply be floating in the dark without knowing what your business is doing.
With the right tracking and analytics, you can see specifically where you are having the most success converting leads into sales and where you need the most help. This allows you to push what's working and tweak what isn't. That kind of information is invaluable to a company in any industry.
Make sure that your website has a quality tracking and analytics package so that you can see the differences and make the adjustments that you need to keep your business growing steadily where others might stifle and falter without those tools.
9) Make past clients feel special
While you definitely want to work to develop leads for new customers, one thing that you absolutely cannot do is forget about the customers that have come to appreciate your services. Repeat customers are one of the most important aspects of any business, and making sure that those customers continue to use your services should be one of your priorities.
For this reason, you should take the necessary steps to make your current client base feel special and important. And really, it doesn't take much at all to do this. You can make them feel appreciated by making special offers or by creating email marketing campaigns specifically for that audience.
Most of all, follow up with those previous clients. See how their services worked for them in the months since they were rendered, and you will make them feel like they are truly important to your business.
10) Facebook demographics
One of the cool tools that Facebook offers is that they have specific demographics that allow you as a business to refine your marketing aim. Perhaps your company wants to appeal to homeowners and families that are in their late 30s or early 40s.
With Facebook demographics, you can target your ads to those markets specifically, putting your marketing dollars to a very specific use. Marketing can be expensive when you try to aim it at everyone instead of focusing on the markets that you know will serve you best.
11) Direct Mail is still important
What you might not realize is that direct mail is not dead. It is one of the only guaranteed vehicles to deliver your message that there is. The key here is to stay within your service area; this way, you aren't wasting money on areas that you might not cover, and you can ensure that the people in those areas are aware of your business.
It has actually been proven that direct mail marketing results in more conversions than email marketing simply because those pieces of marketing wind up directly in the hands of prospective customers as opposed to emails that could be ignored or wind up in junk mail folders.
12) Yard signs
Another great way to advertise your business is to leave signs in customers' yards where jobs have been successfully completed. Obviously, make sure that you check with the customer first before just sticking a sign in their yard, but if they are okay with it, this is a fantastic way for neighbors in that community to see that your business performed a task for that neighbor and that it was done so satisfactorily that they are letting you advertise on their lawn.
This is a simple, relatively cheap, and effective way to grow your business in that community. It is a word-of-mouth campaign of sorts, though the proverbial mouth is more a sign than anything else.
13) Host a seminar
This can alternatively be accomplished with something of a DIY blog on your website, but the difference here is that you can interact with customers on a face-to-face basis. Hosting a seminar will give these customers a bit of free DIY knowledge and will put them right in front of you so that you can show them what your business is all about.
Any chance that you can get face-to-face with a lead or prospective customer is an excellent opportunity that you may not have had otherwise. Make the most of this opportunity and develop a bit of brand trust by hosting a seminar.
14) Make strategic partnerships
Obviously, making partnerships within your industry is not the best idea because you are competing with those companies for the same revenue dollars. But what could be beneficial is to partner up with a business in your community that might also benefit from working with you?
For contractors, it might be a great idea to pair with a local hardware store. The idea is that if customers use your service, they get a discount on their purchases at the hardware store. Conversely, the store could run a special that encourages customers to utilize your business.
If possible, you might also want to consider sharing helpful information between businesses in the community. This will be difficult with any competitors within your industry, but what might be highly beneficial is to get together with other business owners in your area and discuss the things that have worked for each of them. This can give your business and others like yours an idea of how to better appeal to those within the surrounding communities.
Businesses that are able to help one another share the tools that have resulted in success and can help other businesses in the area find the growth that they have been looking for. Not all businesses will be willing to share information like that, but it can be beneficial to all those who do decide to share information.
The right partnership can mean mutual benefit for each and can be something that gives an extra boost to each side of the partnership.
15) Volunteer within the community
One of the most important things about developing brand recognition is building trust between your company and prospective customers that may not have used your services before. A great way to do this is to partake in a community project or to volunteer.
When you do this, you attach your business's name to positive press, and that is always a good thing for developing a brand.
16) Have an active blog
This goes back to making your website work for you as an essential tool in developing and converting leads. When you have a blog on your website that has helpful and informative topics, you make prospective customers feel like they are getting something for free and give them a reason to come back to your website.
The more that you can get those prospective leads to visit your website, the more likely you are to develop those leads and turn them into sales that will boost your revenue.
17) Use DataPins
DataPins is a Local SEO and Social Proof software that allows contractors to prove their work in service areas and service types. Many contractors struggle to rank in nearby cities even though they perform lots of jobs in those areas. DataPins produce geo-coordinates within schema markup to prove to Google and users that you really work in a specific area. As a result, you can rank and convert more customers online.
DataPins also automates the reputation management process for contractors by sending automated review requests through email and text. For those unaware, reputation management is a form of advertising in 2022. When prospects read favorable reviews about your business on Google and Yelp, they are more likely to invest in your services.