What is Construction Marketing?
Construction marketing is the business of promoting construction services or products across various promotional channels. Marketing can refer to print advertising, billboards, and online promotional techniques like search engine optimization (SEO) and business listing optimization.
Why Marketing Matters for Construction Contractors
Regardless of what kind of company you have, it is imperative to get your name out there as a business owner. Becoming visible in the eyes of your audience is a significant part of the battle. The thing is that there are so many ways to achieve this. SEO for contractors, paid advertising, social media, etc.
Construction marketing isn't as simple as it used to be. There are, however, similarities in that you still need to appeal to your local market first and foremost. After all, if you are in construction, your company has a finite reach. You aren't appealing to the country as a whole; you are appealing to a limited number of communities as your company continues to grow.
Being able to market to those local communities successfully makes up a large portion of your business, if not all of it. Appealing to nearby consumers is your business's lifeblood. But how can you stand out in your community and dominate how you market your construction company?
Direct Mail is Old-School But Effective
Believe it or not, using direct mail advertising is still one of the most viable forms of marketing around. Research shows that people tend to open up direct mail sooner and more often than they do email, even though that email option is more widely available.
This because people can ignore those emails or direct them to their junk folder and never even know that they are coming into their email. With direct mail, people are checking their mail, whether it is junk or not. Knowing that people will have to have these direct mail marketing options in their hands is the key to getting great use of those materials.
Not only that, people are more likely to use direct mail offers if they are for a local business. You give the customer an extra incentive to use those offers if they don't have to go very far. Because your business is local, it certainly matches those criteria.
Make sure that your business takes the time to invest in direct mail marketing. It might seem like an outdated practice, but it has more than proven to be a viable service in the marketing industry today. Put your business in the hands of your audience. Literally.
Partnerships Expand Marketing Reach
Some business owners feel as though it is them against the world. And it is certainly understandable to have that frame of mind. But the fact of the matter is that the business world is big enough for alliances and mutually beneficial partnerships.
Please don't mistake me: you don't want to pair up with a competitor within the construction industry. Instead, try to run a partnership with a like-minded business in your community. For example, a perfect match could be pairing up with a local hardware store. They get more traffic in their store for potential sales; your customer feels like they are saving money by using your service.
This kind of win-win marketing is how like-minded businesses help one another to survive and thrive. No one gets anything done in this world by themselves, and that is the same for companies. Assisting one another also fosters a sense of community among business owners.
Facebook is Worth Your Time
Facebook is in a weird spot these days. It is rapidly losing popularity these days, especially among controversies about sharing private information. Still, hundreds of millions of users on Facebook and the vast majority of communities across the United States are likely on Facebook en masse.
For this reason, it is essential to utilize Facebook as a marketing tool. You can wield its power in multiple ways. Facebook Ads, for example, are highly effective with the right targeting strategy. Additionally, pixel tracking "follows" each user around the web once they visit your website or Facebook page. Based on Facebook algorithms, these ads will sit in your peripheral across any website they visit.
The beauty of this is that it keeps your business in the user's consciousness the entire time, and it doesn't cost your company a thing unless the user clicks on those ads. Pixel tracking is a fantastic way to keep your business in your audience's mind, and you only pay for what they click. That is a win-win if there ever was one.
The second way is to interact with your customers through Facebook as often as you can. The best companies will find ways to interact with their customers. Things like listening to complaints and personalization help foster a sense of trust between the customer and the business that most businesses want. Brand reliability is one of the most sought after facets of building a brand.
Facebook might have its negative features, but it is one tool that is a must-have for any business in terms of its marketing program.
Niche Online Directories Can Help
You might not have realized that when a user goes to a search engine and asks about the best service provider in their locality for just about anything, that search engine will come up with specific directories instead of individual sites for the service provider.
It is imperative that, when listing yourself in directories, you are sure to fill out every possible detail that you can. The more information you provide, the more the customer knows about you, and it can also affect your overall directory ranking.
Make sure to regularly check the directories and be sure to instantly answer any query, responding generously to anyone who gives you positive feedback when they take on your service. NAP (name, address, phone number) placements are a highly beneficial way to let your audience know as much about your business that they can and allows you to get to the top of the localized search settings.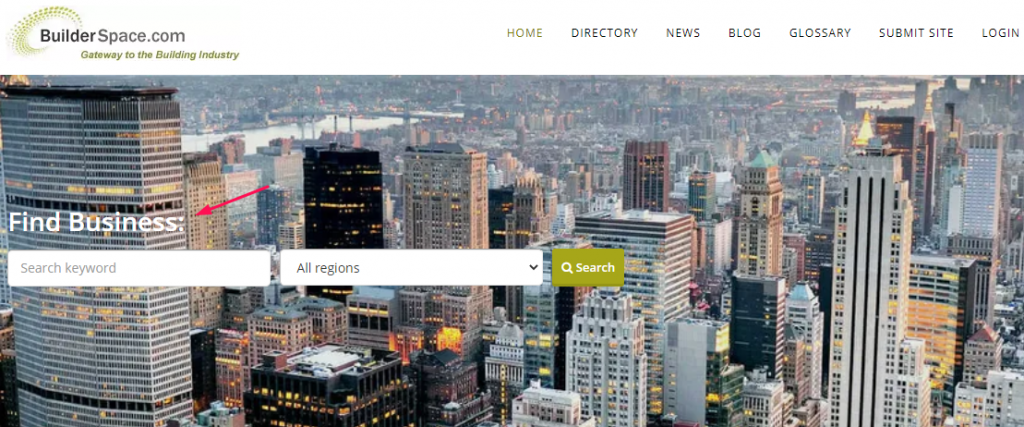 Source: https://www.builderspace.com/
Focus on Specifics and Niche Targeting
If you are new to the business world, it can be intimidating to create an advertising campaign for your business. Your marketing is one of the best ways to deliver to your audience your business's perception, what you as a business are all about, and the services you offer.
It can certainly feel like with a business; you need to advertise everything your company can do. After all, you want to make your potential audience feel like they can go to you for just about anything, right? That's all fine and well, but it can also be a bad marketing idea.
What will be more beneficial to your business is to focus on one area of your service at a time. For instance, let's say that you offer driveway paving services. Aim the focus of your marketing campaign on how great your driveway paving services.
When you focus on a specific service, you plant in the audience's mind that you are the best there is at that service. If you see a noticeable uptick in sales for that specific service, then you know that you should make your future marketing campaigns as focused as they can be. Niche marketing is one way to establish to your potential customer base that you are a trusted, reliable name in that particular service. Targeting is a fantastic way to develop brand recognition when it comes to that service.
Transparency Endears Prospects
When it comes to building brand recognition and developing your marketing campaign, consider this: people love free stuff. Many might not realize that the free "thing" does not have to be a physical item. If you impart some knowledge to your audience, they will take that as a gift, making your business seem like a better option in their eyes.
For instance, maybe you can offer some DIY construction tips for those who are a bit more hands-on. Sure, you could tell them to visit your company and try to sell them your services, but that isn't the same thing. Make them feel like you are giving them something. As I said, people love free stuff.
One strategy is to run a blog through your website. Have entries with the aforementioned DIY stuff or any other helpful tips that will draw people to your site and eyeballs towards your business even if it doesn't immediately result in sales.
Keeping your business in the mind of your audience base is one of the essential aspects of marketing your business. Offering "free" tips to your audience is one of the best ways to ensure that they will think of your business when a problem comes along that they can't solve themselves.
Stay Local and Community-Oriented
Building trust and brand recognition within your community are imperative to the success of your business. Traditionally, this means that you develop the kind of marketing campaign that sticks in the memory of your local community.
But there are other ways to go about it. For instance, providing a charitable or social service is a great way to foster that trust within the community and build brand recognition in your audience's eyes. Think about it: if a local business participates in rebuilding a hospital or providing aid to those affected by a massive storm, aren't you more likely to see them in a positive light?
Not only is your business doing a great deed by participating in community events such as these, but you also build that all-important trust within the community. Every little bit helps, and by helping your community, you support your business's image within that community.
Provide Social Media Access to Consumers
We touched a little bit on Facebook above, but it is crucial to not forget about the other forms of social media for construction workers. These are rapidly growing mediums where users spend lots of their time. Because so many people hang out on social platforms, you have a far greater audience to reach when using platforms like Twitter and Snapchat potentially.
Creating engaging, local advertising for users on those social media platforms is a great way to connect with them. Not only that, you can spread the word on sales and specials, even using digital coupons to promote anything that you are looking to move in terms of services or products.
Any company with an effective marketing campaign will make the most out of social media's reach. It also allows you to interact with your audience in a fun and laid back kind of way. You can make your company seem a little more laid back and "different" than others in the industry if you run social media accounts the right way.
Best of all? You can run an effective social media campaign for little to no money. That is the kind of voice and reach necessary for any company, and social media allows for that kind of reach without any additional costs. How can you beat that?
Final Thoughts From Contractor Webmasters
Ultimately, it is crucial to figure out which of these methods work best for your company based on the marketing budget that you have, the size of your community, and a few other mitigating factors. The goal is to build brand recognition for your company within your service areas. However, you can do that in an effective way to market to your community.
The best thing about most of these methods is that they don't cost a ton of money to implement, and you can get great results out of them without having to come up with some complicated, comprehensive construction marketing campaign.
Find ways to communicate with your community, to build trust and recognition with those within the community. When you can develop these things, you will see your company begin to grow and gain steam among local consumers.