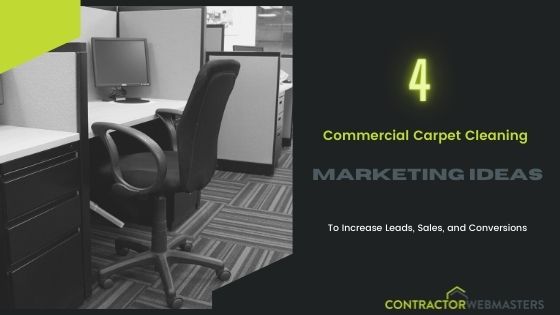 Commercial carpet cleaning marketing can be tricky because the sales cycle for these services can be lengthy. In addition, the long sales cycle makes it challenging to track results. As a result, business owners may grow impatient and start to pester potential clients.
That's why commercial carpet cleaning businesses need a specific marketing approach. Contractor Webmasters works with commercial carpet cleaning businesses. The tips we layout in the following post are strategies we have seen work for them. 
1) Email Marketing
Commercial carpet cleaning isn't constantly on a business owner's or manager's mind. Carpet is literally underfoot, and it can be easy to overlook on a day-to-day basis. That's why it's helpful to be reminded that your carpet is due for a cleaning.
This is where email marketing can be beneficial for commercial carpet cleaning businesses. With email marketing, you can keep in touch with your existing customers, gently remind them when they need your services, and increase brand awareness. There are certain things you need to remember to launch a successful email marketing campaign, though:
Don't Pester your Customers: No one likes to be inundated with unsolicited emails. So make sure that you are not sending multiple emails a day. In fact, you should be sending no more than 2 messages to your email list a week.
Personalize your Emails: Make the content you send out specific to the recipient whenever possible. Include content about tailored services, special deals related to their particular business, or information about a service they have expressed interest in.
Email marketing is perfect for the commercial carpet cleaning industry because there is very little overhead. Carpet cleaning is something that people need sooner or later. Plus, it's an excellent investment. In terms of marketing strategies, email marketing has one of the highest ROI's.
2) Content Marketing
You should consider your website as a lead magnet. It is your own personal area in cyberspace where you can attract new customers. But you have to ask yourself, 'Is there anything on my website worth seeing?' If the answer is "no," then you probably haven't done any content marketing.
Today, content marketing is considered one of the most important and influential subsets of digital marketing as a whole. Professional marketers consider it one of their most potent weapons. However, it can be challenging to start with content marketing – especially for commercial carpet cleaning businesses. Here are some tips to help you get the ball rolling:
Blogging: As an expert on commercial carpet cleaning, you have a unique insight that people interested in the service would value. Turn this insight into blog content and publish it on your website to attract new customers and generate leads. Just be sure to center blog topics around keywords that you are trying to rank for.
Video Content: Video content is also a powerful tool for commercial carpet cleaning marketing. People will want to see your carpet cleaning process in action before they hire you, so that could be one route to take. You can also create video tutorials on how best to keep a carpet clean.
Social Media: Social media is vital in commercial carpet cleaning marketing. Creating engaging, fun, or informative posts for your company's social media outlets is a great way to increase brand awareness and drum up new leads.

3) Pay-Per-Click Advertising
Pay-Per-Click (or PPC) is a form of digital advertising that can benefit new carpet cleaning companies. For example, PPC provides an almost instantaneous way to increase brand awareness in your local area. In addition, paid ads can target a specific location, a certain age, and other demographic categories, so you can more or less control who sees your ads. That means you won't be wasting advertising dollars by displaying your ads to people who would never need your services. 
Before you write of PPC because you don't have much advertising budget, know that you can set a weekly limit on how much you pay for PPC ads. However, even if you only have $100 to spare for advertising, PPC is a worthwhile investment if you do it correctly. Here are some tips:
Do your Keyword Research: Your PPC ads will be centered on keywords for which you are trying to rank. However, high-competition keywords will inevitably be more expensive and may not yield a high ROI. For this reason, it pays to do your keyword research and find low-competition keywords or ones that are more specific to your services. Here are some keyword research tools that can help you out. 
Choose your Demographics Wisely: Any reputable PPC service will allow you to target specific people. Obviously, you will want to target business owners and property managers. However, there may be other demographics that would be beneficial to target. Consider your past clients and their industries and try to include them in your PPC advertising. Consider real estate agents, janitorial companies, and anyone else who could use your services. 
Have Good Landing Pages: Your landing page is supposed to move people along the sales funnel. A landing page is what people see after they click on your PPC ad. The goal is to have people click through to your website and take favorable actions (giving you a call, scheduling an estimate, etc.). A good landing page will be short and persuasive. Pressure the pain of having a dirty carpet and how your services can help.
4) Google My Business
Last but not least, you need to have an optimized Google My Business profile. This is a crucial commercial carpet marketing strategy because Google prioritizes GMB listings for almost all searches with local intent. That means when people search for "commercial carpet cleaning near me," GMB listings pop up as the top results 9 times out of 10.
You can optimize your GMB listing by including high-resolution photos of your business. You should also describe your business in as much detail as possible, including the services you offer, the areas you operate in, your hours of operation, and even past clients. Also, be sure that your business name, phone number, and business address are accurate on your GMB listing. Google will most likely dock your rankings if you have inconsistent contact info.
We also highly recommend updating your GMB listing at least once a week. Google loves fresh content, so be sure to regularly add photos, FAQs, and Google Posts so that consumers stay engaged.