Search Google for "cheap SEO," and you will see a bunch of results that warn you to AVOID affordable SEO services:
Let's first acknowledge the most obvious explanation for this:
Websites that utilize search engine optimization to rank for keywords like "cheap SEO" have financial motives to drive up the industry price.
They also have more financial and industry resources to produce the content piece and build high-trust backlinks to the page.
You might think that proves their point about investing more money in SEO services, but it doesn't.
SEO companies who churn out these kinds of content pieces are operating as industry experts who know all the trade tricks.
But THEY ARE NOT operating as local businesses that need SEO to provide real services like plumbing, HVAC, roofing, legal counsel, medical assistance, dentistry, etc.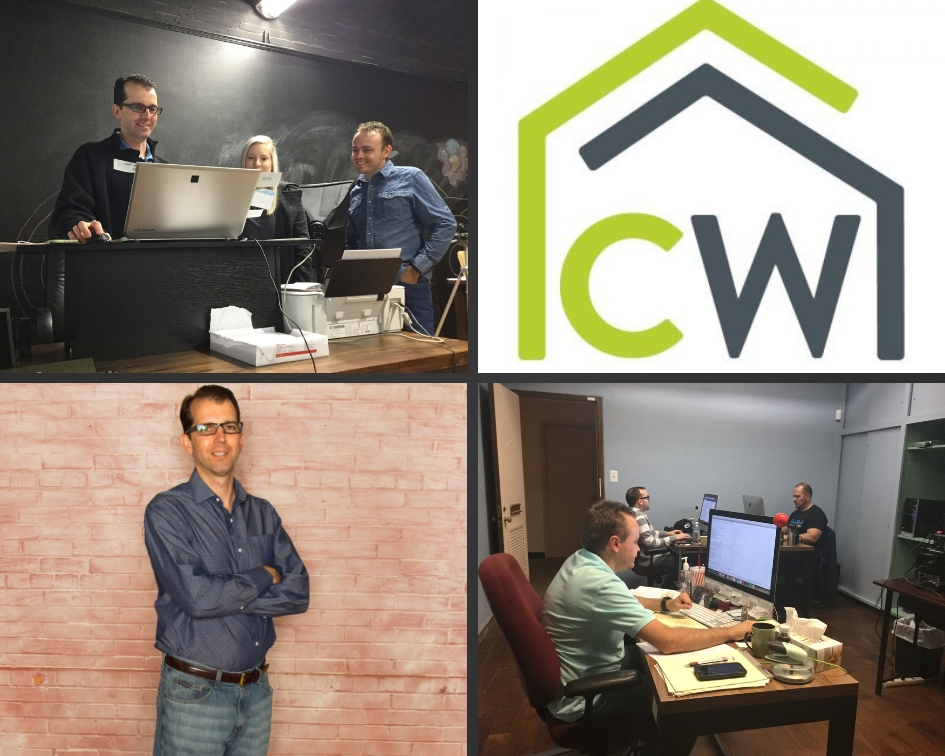 Those small businesses — which account for the majority of SEO consumers — are targeting very different keywords in very different scenarios.
The reality is that these kinds of businesses NEED AFFORDABLE SEO because it aligns with their business model and relative competition.
Think about it this way: many articles that rank for "cheap SEO" have built backlinks from other SEO-related websites.
Those backlinks come from topically relevant websites within an industry network that SEO people have access to and can trust.
Those same perks don't translate to a local plumber who wouldn't benefit from backlinks on an SEO-related website since it is highly irrelevant to their business.
So what does the local service business actually need from their SEO services? They need AFFORDABILITY… and yes, even CHEAP SEO.
Here are 7 reasons why Cheap SEO is better than you think:
Reason #1: Local SEO is Much Cheaper Than National
The foundation of local SEO (Google My Business) is a free platform from Google available to any local service business. This means that anyone can sign up for GMB without paying a dime. Any SEO Service charging you major fees to manage your local SEO campaign is gaslighting. Sure, it takes resources to manage a GMB platform, but not as many as they lead you to think.
Many of the leads that come to a roofer, plumber, or HVAC company come through Google's Local Map Pack. In contrast to organic search results, Map results are based on a separate algorithm that is based specifically on proximity, relevance, and prominence. Proximity and relevance are largely out of anyone's control and, therefore, should not require an SEO fee.
Prominence is the one ranking factor that can be reasonably influenced through optimization. However, most of that optimization requires work from the local business rather than the SEO company. For instance, your business needs to generate reviews on GMB, which is something you have more control over than your SEO company, despite what they say.
If you are a local service business with a good reputation in your community, it is the job of the SEO company to translate your existing prominence to the online community. That in itself does not require as much work as you think. That's why reputable plumbers, roofers, lawyers, and dentists should target AFFORDABLE SEO SERVICES rather than paying for overpriced SEO.
Reason #2: Contractors NEED FEWER LINKS to Rank #1
Sure, the SEO company targeting your business can brag about how they rank #1 for this keyword and that keyword, but what they don't explain to you is that they have access to relevant websites from which they can create backlinks. That relevance does not extend to their clients, who operate in entirely different industries and, therefore can't benefit.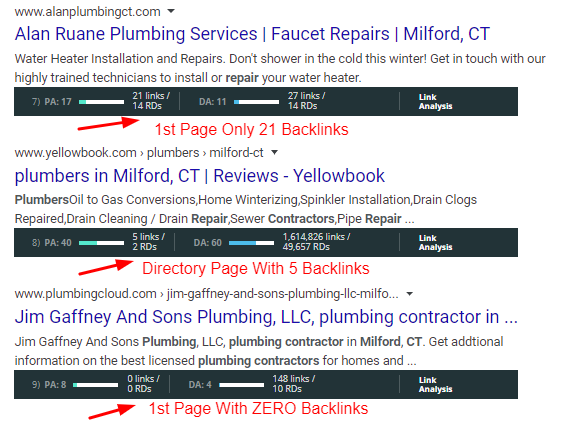 It is much more difficult to build a quality backlink to a local plumbing website than it is to a national SEO website. For starters, the plumbing industry does not build links as rapidly as the SEO industry because relevant websites are not as eager to give them away. For that reason, local plumbers need fewer backlinks to rank, dramatically cutting the SEO cost.
Local service companies should be especially wary of services that DO NOT specialize in their niche. In other words, a general SEO company is unlikely to understand the industry needs of a plumber or roofer, while a marketing agency that specializes in those niches might be more helpful. They also might be CHEAPER since they understand businesses NEED CHEAP SEO.
Links to local service websites will come primarily from existing relationships. For example, if you, as a painting company, belong to the local chamber of commerce, a link from their website will be topical, relevant, and high-quality. The pre-existing relationship is responsible for that backlinks cannot be formed by any highfalutin SEO company, only you.
Reason #3: Content Marketing is Less Important for Contractors
Content is king… blah blah blah. How long will you listen to highfalutin individuals within the SEO industry? These people don't know what it's like to get up at 5 am for a septic tank job or to walk a commercial roof in less-than-ideal weather conditions. The reality is that YOUR CONSUMERS will not read a 2,000-word blog post about septic tanks or roof walking.
YOUR CONSUMERS want YOUR SERVICES, not YOUR CONTENT. In other words, the best writing plumber is not the best plumbing plumber, and Google understands that. If you have great reviews and testimonials from local customers, that is better than any 2,000-word drivel these Millennial SEO "experts" can muster up. That means you shouldn't be overpaying for content.
Don't get me wrong, contractor websites need service pages describing what they offer, but they don't need to be excessively long or incredibly well-written. That's why it should be AFFORDABLE and CHEAP instead of expensive. All you really need from your website content is clear, concise, and grammatically correct content that encourages a Call to Action (CTA).
And don't get caught up in the whole blogging hype. Blogs for local plumbers, roofers, and other small businesses will not drive many customers, if any. Blogs on these types of websites should be reserved for major announcements, industry changes, and perhaps occasional tips for homeowners or whoever your target consumer is. They are overrated.
Reason #4: Experienced SEO Professionals Are Affordable
SEO is not that complicated. It doesn't take a rocket scientist to figure out how to position a website for more clicks. In fact, you don't even need much formal education to implement SEO properly. The only thing you really need is experience. SEO professionals with experience will WORK FOR CHEAP within reason, as long as they have enough clients.
Now is the time to invest in AFFORDABLE SEO from an experienced SEO company and break free from agencies charging you excessive amounts with long-term agreements. Staying on top of organic results is important over the next few months, but you shouldn't have to break the bank to do so.

You might find that SEO companies within your industry niche are more likely to offer affordable services than companies that represent a specific location or simply general SEO. These highfalutin people are exercising a large-scale SEO strategy that is unrelatable to you and your staff. Agencies within the contractor niche are more tuned in to your specific SEO needs.
The biggest reason SEO costs any money is the time it takes to execute. As someone once said, "Time is money." Sure, a plumber, roofer, or another contractor could learn SEO and implement it without formal education, but it would cost them the time they'd rather spend on their own profession and, or with their families, children, and friends. And that's why they pay.
Reason #5: Affordable SEO Agencies Have More Clients + Data
Since only Google knows exactly how its search algorithm works, the rest of us must rely on real-time data from ongoing internet marketing campaigns. We can use tools like Google Analytics, Search Console, MOZ, and Majestic to monitor performance, link acquisition, and ranking trends. This means the more campaigns you track, the more data you have to analyze.
Affordable SEO companies have more clients because they pay less. While they may lose some customers over time, they are gaining more than they lose. This means they'll always have a database of campaigns through which to monitor Google's algorithm and inform their SEO best practices. Companies with only a few clients are not afforded the same luxury.
While a high-priced SEO company might have a few major brands paying them for SEO services, they don't have access to the large-scale pool of small businesses, which is far more relevant to ranking the average consumer. Gathering Analytics for the everyday small business owner is far more transferable to the next digital marketing campaign than a massive entity.
Think about corporate America and how little they seem to care about the working class. As a plumber or roofer, you may have come across conceited executives who don't fish or hunt because they are too busy disrespecting the working class. Are these the people you want to run your SEO campaign? If you are one of them, maybe so; if you are a contractor, then no.
Reason #6: You Can Invest Saved Money in Other Areas
I've stated this several times, but the truth is that a local service business determines its SEO in real life. As long as you work with a competent SEO company, you will be in a position to rank. The rest is up to you. From how well you perform services to how polite you are to customers and how many reviews you ask for from satisfied consumers. So let's think about that.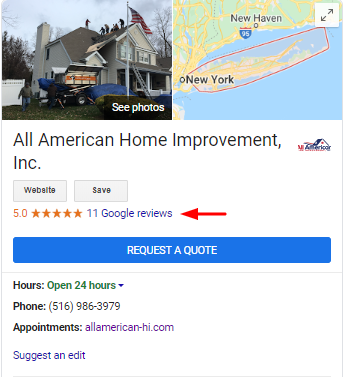 How exactly does a contractor improve the business? They invest in premium supplies, premium customer service, and premium technicians. If you are spending all of your money on SEO or digital marketing, you won't have as much to invest in the things that will actually make or break your SEO campaign anyway. No SEO expert can help you with the things that matter.
When you service a client in their home, they will note how professional the technician was, how quickly the job was performed, and most importantly, how effective the job was over time. By investing in equipment, supplies, and staffing, you are making sure those things result in positive interactions with customers. That right there is far superior to a blog post.
Ultimately, showcasing your many strengths as a contractor will serve as your content marketing campaign. That includes embedded customer reviews that are written by the customer themselves and not some SEO writer. That's free content right there. All you need to do is find a capable SEO company that provides review integration widgets like DataPins.
Reason #7: Escape SEO Package Prices & Guaranteed Ranking
Monthly retainers usually jump because of SEO package prices rather than the baseline price. Expensive SEO services typically break down their services by package type, with the least expensive package doing most of what the highest-priced package does. With affordable SEO services, there isn't going to be any packaging, and you can focus wholly on the baseline price.
A common pitfall of SEO pricing is guaranteed rankings. As you might imagine, consumers are willing to pay more for guaranteed rankings than they are for affordable SEO services. Even if rankings are not guaranteed but strongly hinted at, you will expect results they are unlikely to deliver. As a contractor, you could grow frustrated quickly because of the promises.
Another possible scenario is when you are wrongly attributing credit to your over-priced SEO company for your performance. As I've stated more than once, your SEO performance can mostly be attributed to your real-life standing within your local community.
If you are a great plumber and your customers know it, the online community will know it, too, as long as you hire a competent SEO company. They don't have to guarantee rankings because you'll see them yourself.
Be wary of upsells that include PPC management, link building, or any service that is not within the primary category of white-hat SEO. While PPC advertising can certainly help a company, it shouldn't be considered part of your SEO package. If you only want search engine optimization services, don't be intimidated into thinking you're "cheap" or "frugal" for avoiding a risky market like Pay Per Click.
How Much Does Affordable Monthly SEO Cost?
According to RankPay, the average monthly retainer for SEO is between $750 and $1500 per month. Many SEO companies charge even more than that. So what would constitute cheap SEO? Well, the lowest end of the spectrum could be considered affordable ($750), but it would have to be even less than that to be considered cheap. Something in the $600-700 range is fair.
What About SEO Services From Freelancers?
Some articles bash "cheap SEO" by equating it to buying backlinks from Fiverr. Here's some news for the industry to chew on; buying backlinks is not SEO. If you hire a freelancer on Fiverr or anywhere else, they won't be able to provide full-scale agency services.
When working with an agency, you should be getting on-page SEO, technical SEO, and some form of content, at the very least. Not everyone claiming to do SEO actually does it.
Where Can I Purchase Affordable SEO?
You can purchase affordable SEO services from Contractor Webmasters. All you have to do is give us a call at 800-775-1250. Our SEO services include website design, content writing, local mapping, and on-page optimization. We have hundreds of clients in the service industry who are monitored using Google Analytics, and the information is applied to help your campaign thrive.