What Are Carpet Cleaning Leads?
Carpet cleaning leads are prospects who show interest in your rug cleansing services, typically through online platforms like a website, Google listing, Facebook page, or 3rd party website like HomeAdvisor. Lead generation is the process of acquiring more leads with better quality and lifetime value.
What Are Exclusive Carpet Cleaning Leads?
Exclusive leads come straight to your business from your web property. The consumer finds you online through your website, Google My Business listing, or other digital property. Exclusive leads are more likely to convert because they have shown interest in your services specifically instead of carpet cleaning as a general inquiry.
How Carpet Cleaners Get Exclusive Leads in 2023
So you want to generate carpet cleaning leads for your local business in 2023? The following step-by-step guide from Contractor Webmasters guides you through the process.
Generating leads is not as difficult as you might think, but targeting the highest quality leads will make your business grow much faster and provide more excellent lifetime value for business growth.
Carpet cleaners should focus on exclusive contractor leads rather than shared leads. You might want to buy carpet cleaning leads from a 3rd party, but it's risky.
Step 1: Claim Your Google My Business
The first step for every carpet cleaning business should be to claim your GMB listing. Sign up for your Google My Business listing, free of charge, by visiting google.com/business. You must verify your business address through the postcard mailing system so that Google knows you are legit.
Once you claim your business, you can begin to optimize the listing with updated business information, pictures, posts, and other calls to action. Users who search your brand name will see your listing appear (if you set it up correctly). Some business owners hire agencies to help.
Your Google My Business listing can generate leads from Google's Local Map 3-Pack for location-based queries.
Step 2: Create a Website
To reach a legitimate level of success, you will need a company website. You may already have a domain name purchased and may even have a website online. Even so, you should still invest in a carpet cleaning website design to make it convert faster.
It would help if you also focused on optimizing your website for Google to show up for more keywords. Finally, your website should perform well on mobile devices since most consumers will visit your company website through a smartphone or tablet device. If you don't have a domain name, you must purchase one or hire an agency to create your website.

Step 3: Write High-Quality Content
To optimize your website and GMB listing on search engines, you must provide users with high-quality carpet cleaning content. Content includes pages and posts, both on your site and GMB listing. Google will rank websites based on the quality of their content, along with their relevance and authority.
The more specific you can write about your carpet cleaning services, including the more niche services within your industry, the more you will show up for keywords that consumers search. You don't always have time to write content as a business owner, so you should hire an agency.
Content quality standards have increased since Google's Helpful Content Update, making quality more important than quantity.
Step 4: Pay for Facebook and Google Advertising
Organic leads are better than paid ones, but you can still generate exclusive leads through online ads. Both Google and Facebook provide platforms for carpet cleaners to generate clicks and potential customers.
Facebook even allows you to target specific demographics like homeowners so that you can spend your advertising money on a group of people more likely to convert.
Organic search engine optimization will be the best long-term strategy, but ads can help you reach clients quickly and strategically and promote a carpet cleaning service.
Step 5: Solicit Reviews From Satisfied Customers
To grow your business long-term, you must get reviews from satisfied customers. With modern review systems, word of mouth can travel faster than an ethernet cable. Contractor Webmasters includes the DataPins plugin that allows consumers to quickly leave a review of your business from your website.
It also sends out SMS text reminders and direct links to make the process as convenient as possible. Carpet cleaners will increase their reviews with this plugin, and it will ultimately help generate leads.
The Carpet Cleaning Sales Funnel
Sales funnels hold value because they allow you to control your traffic. When you buy a lead from another service, you do NOT control that traffic. You will unlikely reap any long-term benefit from that lead, even if they convert. A sales funnel starts with your organic web presence.
Once people find you online, they have entered the bottom of the funnel. They become a warm lead as they read through your material and reviews. Finally, they contact you and are relatively easy to convert since they are already interested in your services. 
Newer websites can use PPC for carpet cleaners to get new prospects into your funnel as you wait for SEO to work its magic in subsequent months.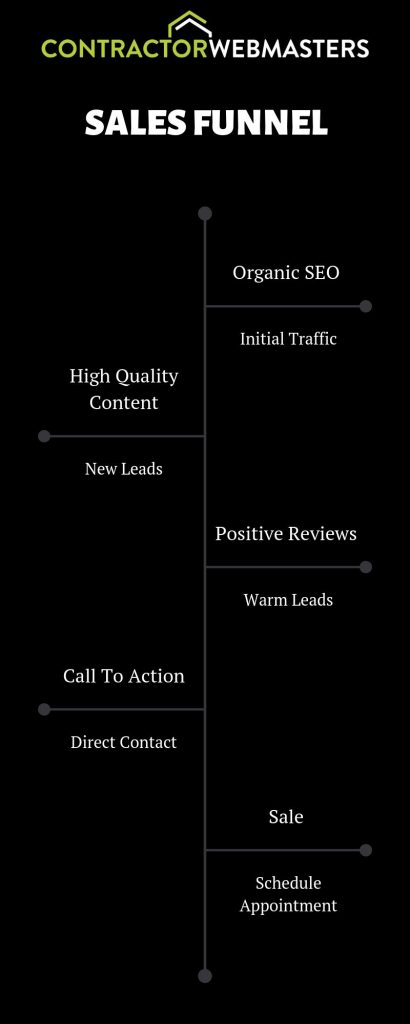 Should I Use Carpet Cleaning Lead Services?
It depends on what kinds of leads they offer. You should not invest in shared leads since they have a relatively low conversion rate. Additionally, you should not invest your entire business in leads from other platforms.
Think about it; you are helping their brand succeed, not your own. It is better to generate leads through your assets like websites and GMB.
How To Get Carpet Cleaning Customers
The best way to get customers is by getting exclusive leads. You should follow the steps at the beginning of this guide to get those leads. Since our methods create warm leads, they will likely convert into customers.
The best part is that they become repeat customers if you perform good services. You now have a great long-term business model.
How to Get More Carpet Cleaning Jobs
Our methods create a snowball effect so you can get more jobs over time. Once you start getting warm leads, you start getting your initial jobs. From there, you generate reviews with our plugin and have even more authority online.
Now you are ranking higher, getting more calls and emails, and converting them at a higher rate because of your growing reputation. 
Where to Advertise Carpet Cleaning
You can use Google, Facebook, and YouTube to advertise your carpet cleaning business. If you are creating a Facebook Ad, you will want to pay attention to the demographics to target the right people. You want to go for homeowners who will likely pay for carpet cleaning services.
With Google PPC, you want to target the best carpet cleaning keywords. As for YouTube, the goal is similar to Facebook, so you should pay attention to target demographics. Other options include old-school tactics like carpet cleaning flyers.
What About Commercial Carpet Cleaning Leads?
Commercial carpet cleaners can use these very same strategies to secure exclusive leads. You have a great chance to dominate your market as long as you combine a great website with high-quality content and an optimized GMB listing.
GMB doesn't currently allow businesses to list themselves as commercial carpet cleaners, but you can make it known on your website.
Carpet Cleaning Marketing Strategies
If you need assistance implementing our carpet cleaning marketing strategies outlined in this guide, contact Contractor Webmasters. We are a full-service digital marketing agency for carpet cleaners. We design a custom website, populate it with carpet cleaning content written by degreed writers, and optimize it for search and mobile devices.
Our services also include the best review plugin on the market to help grow your brand long-term. If you are interested in paid advertising, we can create carpet cleaning ads that work without overspending.